Side Menu Ends, main content for this page begins
Back to Side Menu (includes search)
OHHS Art and Design and SOS Art Cincinnati 2019
Posted on: May 28, 2019 9:00 am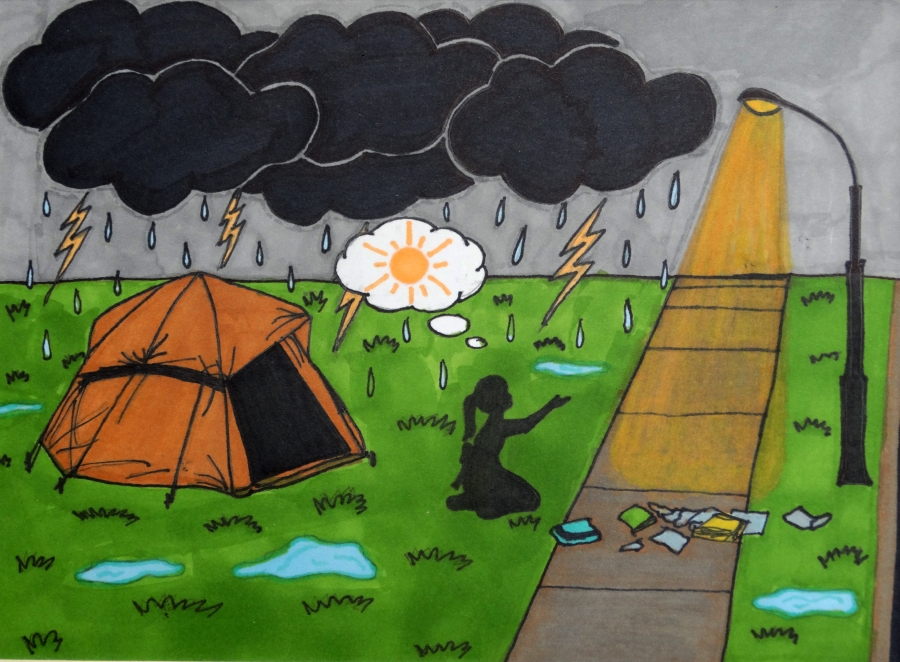 SOS Art Cincinnati sponsors a yearly SOS ART Show and Event of creative expressions for peace and justice. This year, OHHS Art and Design students from: Art Foundations; Painting and Mixed Media; Drawing and Printmaking; and Studio Art AP Drawing and 2D Design classes will be participating in the event. Students will be exhibiting alongside many established artists, including OHHS Art and Design teacher Jamie Schorsch, all addressing issues related to peace and justice.
The primary objectives of SOS Art Cincinnati are:
To promote the use of art as a vehicle for peace and justice and for a better world.
To provide art-related educational programs towards peace and justice for all ages.
To help facilitate the creation and development by local artists of literary and artistic works focused on peace and justice.
To help create a community of local artists who use their artistic voice for peace and justice, who connect and collaborate.
To use art, to inform, educate and create a dialogue on issues pertaining to peace and justice.
Information about the students selected to exhibit is provided below:
Icons of Influence
For "Icons of Influence" students selected an individual, an icon of society, to research who has impacted and influenced society in a positive way. Using a stylus, with a variety of Scratchboard tools, students carefully observed details, textures, highlights, and shadows. A term was selected as a descriptor of the selected icon that was included in the work to summarize the individual's life or characteristics.
Exhibiting Artists: Tyler Backscheider, Faith Guthier, Becca Kaiser, Lexi Lepof, Samantha Stevens, Kylee Brown
Communicating Social Narratives: "Girl Rising"
Drawing and Printmaking students created a narrative image based upon one of the stories vignettes from "Girl Rising" that they selected for inspiration. The compositions demonstrate the unification of notes and sketches taken during the viewing of "Girl Rising", research related to the stories, and project planning completed previously. The artwork of Kara Walker served as inspiration for the silhouetting of the resulting images that convey the struggles that girls face around the globe in receiving and education.
Exhibiting Artists: Sophia Pettyjohn, Chloe Howie, Karrine Miller, Henry Groh, Madelyn Clark
Societal Commentary
One of the most powerful functions of an artist is to improve our society by changing the way people think. Since the beginning of time, the greatest artists have been the ones who use art to call our attention to something that is going on in the world. The following artworks communicate a viewpoint on a topic, or a moral stance on a particular incident, that communicates personal voice through artistic interpretations. Exhibiting Artists: Allyson Albertz, Thalia Georges, Mariah Geiger, Alexis Hetzel, Emma Sedlack, Maddie Schwoeppe, Alyssa McRoberts, Alaina Broughton, Sydni Crass, Mayson Reperowitz, Cailee Plunkett, Sabrina Ryland, Lauren Shaw, Paula Connelly, Corrine Sizemore, Zoe Chirumbolo-McKee
Art & Civil Rights
Students researched some of history's most (in)famous events of civil unrest and justice and visually communicated the essence of those events through the relief printmaking format. The goal of the work was to communicate the importance of documenting the power of people who challenge the violation of Civil Rights through a media that can be mass produced. Kathe Kollwitz served as the inspiration for this project for her role in educating the people about the horrors of WWI and WWII through mass-produced prints.
Exhibiting Artists: Hadley Adams, Maddie Von Holle, Isabelle Schwoeppe, Caden Cadel, Jordanne Boston, Ella Goodman, Maddy Kleinholz, Molly Loschiavo, Bridget Barron, Tyler Brown, Amy Smith, Ryley Backscheider, Christian Arenz, Catie Turner, Eileen Egan, Patrick Gibbons, Skylei Jame, Tala Temple, Leila Tuck, Daphne Glazer, Sam Dudley, Shaelyn Kamp
Symbols of Global Issues
Having learned about the graffiti style artwork of Keith Haring, students created a drawing in the style inspired by Keith Haring as a means of using symbolic imagery to communicate a message based on a global or social issue. Exhibiting Artists: Molly Powell, Jasmyne Howland, Terrell Dallas
Social Perspectives Prints
For this assignment, students researched some of today's greatest socially conscious artists, such as Shepard Fairey, to discover what makes art powerful and life-changing. The mixed media print, collage-style work of art, communicates to the audience the students' position on a social issue, a moral stance on a particular incident, or viewpoint on a topic that affects their life. Exhibiting Artists: Mackenzie Becker, Lexi Lepof, Riley Groh, Mackenzie Sexton, Elizabeth Pfalz
The SOS Art Exhibition, now in its 17th consecutive year, will take place at the Art Academy of Cincinnati from May 31st- June 9th, 2019.