Oak Hills High School News
Save Local Waters Rain Barrel Auction is LIVE!
Posted on: April 23, 2019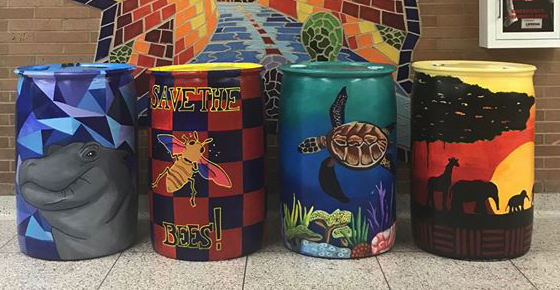 Visit the Go Green Garden Exhibit for the 7th Annual Rain Barrel Art Benefit Auction at the Cincinnati Zoo! Local artists have done their part to motivate area homeowners to save rainwater in dazzling, beautiful, painted rain barrels. These barrels will be on display throughout the Zoo during the month of April until the closing of the Party for the Planet on April 25th.
The Rain Barrel Auction is now LIVE online: http://www.savelocalwaters.org/auction.html
April 15 to 25 - Rain Barrel Art Online Auction
April 25 - Party for the Planet, Auction Finale, and Artist Reception
Don't miss out on your chance to own an OHHS created Rain Barrel! Proceeds from the auction will be used to further environmental education and awareness. Rain barrels are an easy and inexpensive way to conserve water and save money. For more information, visit Save Local Waters.