Side Menu Ends, main content for this page begins
Back to Side Menu (includes search)
World AIDS Awareness Day/Day With(out) Art: 2020
Posted on: December 1, 2020 2:00 pm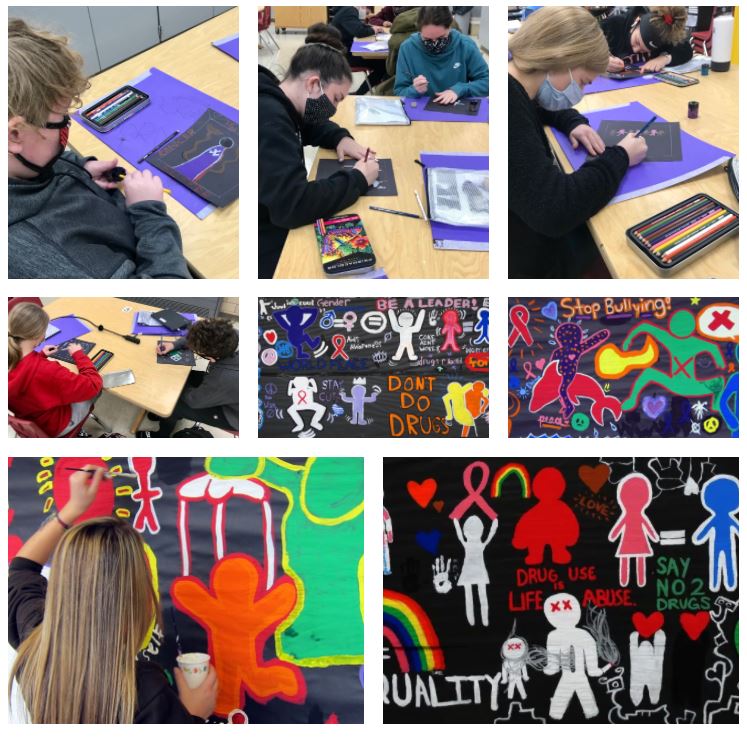 December 1st marks the annual observance of World AIDS Day, one of the most recognized international days and a key opportunity to raise awareness in communities across the world about the state of the pandemic, and critical next steps that must be taken to halt its spread. This year, 2020, marks the 32nd anniversary of World AIDS Day. Day Without Art (DWA) began on December 1st, 1988 as a national day of action and mourning, aligned with World AIDS Day, in response to the AIDS epidemic. Over 800 U.S. art and AIDS groups participated in the first Day Without Art by shutting down museums, sending staff to volunteer at AIDS services, or sponsoring special exhibitions of work about AIDS. Over the years, Day Without Art has grown into a collaborative project in which an estimated 8,000 national and international museums, galleries, art centers, AIDS service organizations, libraries, high schools, and colleges take part.
Oak Hills High School has been a part of this tradition for over 24 years. In 1997, Day Without Art switched the approach to a Day WITH Art, in order to recognize and promote increased programming of cultural events that draw attention to the continuing pandemic. The name was retained as a reminder of the impact the disease had on the arts and entertainment communities, but parentheses were added to the program title. Day With(out) Art highlights art projects intended to inspire communities to action by creating art and awareness about AIDS.The artist's role as a social commentator and activist has been ingrained in the history of civilization and culture.
Art and its creation as a response to social and political issues can be a powerful catalyst for influencing and raising public awareness resulting in positive social change. Art has a long history of using social commentary as a weapon of change or enlightenment. German expressionist artist Kathe Kollwitz created artworks that centered on themes of poverty, unemployment and worker exploitation during WWI and WWII. Mexican muralist Diego Rivera used his art as a tool to vocalize for the oppressed against their oppressors. In April 1937, the world learned the shocking truth about the Nazi Luftwaffe's bombing of Guernica, Spain- a civilian target- through Pablo Picasso's great anti-war painting, Guernica. American Pop artist Keith Haring created public works to raise awareness about issues of drug abuse, corruption in government and societies- such as the Berlin Wall in Germany and South Africa under apartheid. These artists expressed their opinions and message to the literate and illiterate alike and earned worldwide recognition.
To mark the anniversary of this event, the Art and Design Department at Oak Hills High School focuses on the positive and influential role the arts play in AIDS activism- as well as in other social, global and political issues. Artwork will remain uncovered as a way to draw attention to the possible future roles our current art students may play in our globalized future. Typically, throughout the week, over 200 Art Foundations students work to create collaborative mural panels that focus on empowerment, and activism, through the arts inspired by the style of artist Keith Haring as a part of the observance of World AIDS Day. Due to barriers created by the current COVID-19 pandemic, students will focus on creating individual designs throughout the week, centered on Global Issues, in lieu of their collaborative creation.
View images of the students in action with their creations this year, as well as samplings of past collaborative murals, below.