Administration Office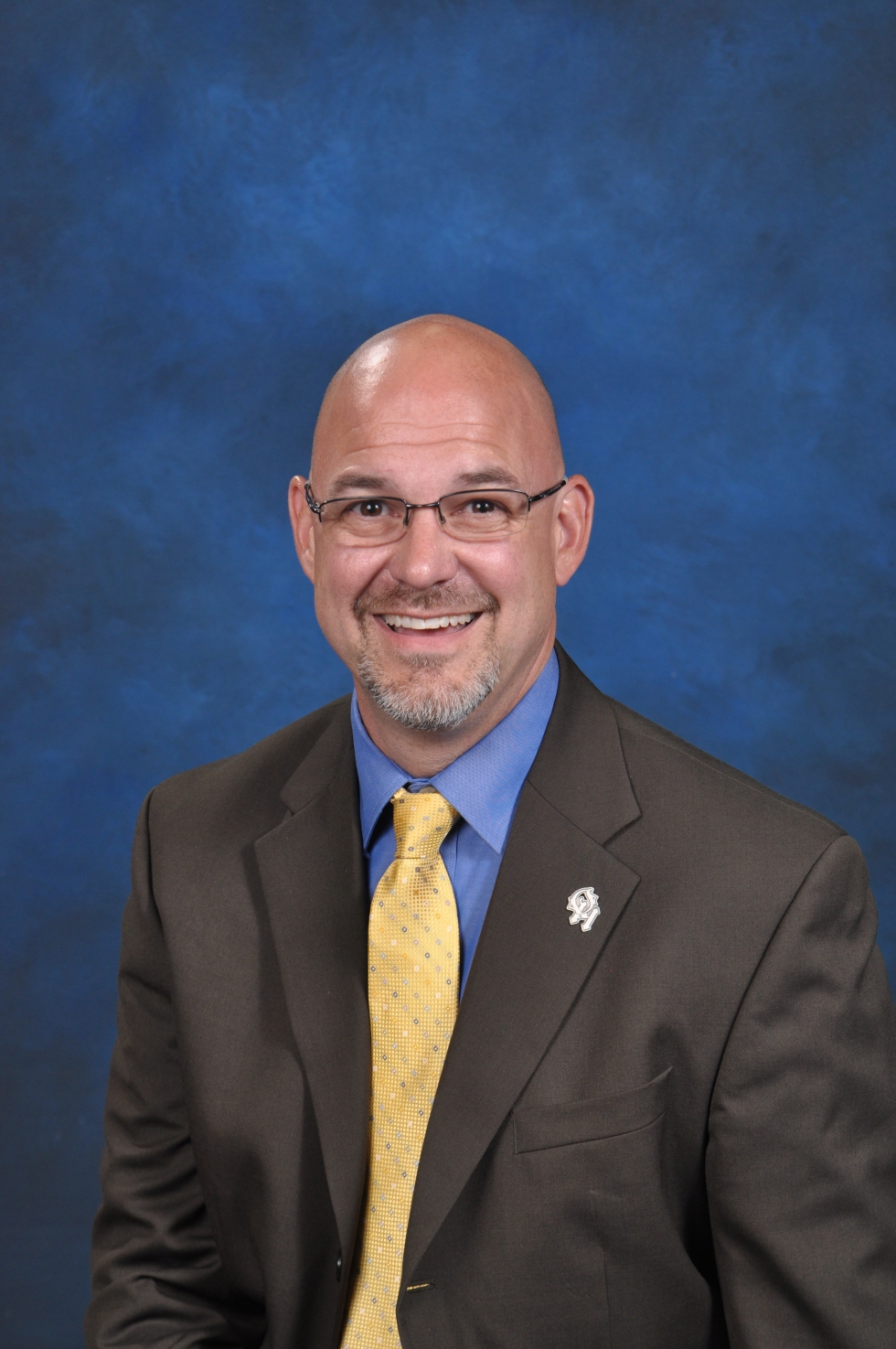 A Letter From the Principal
August 2021
Springmyer Students, Families, and Community Members:
Welcome to the 2021-2022 school year! We had a very challenging 2020-2021 but I am proud of how the Springmyer Community managed through the Pandemic. We are confident that 21-22 will see a return to many of the things that make Springmyer Elementary such a special place. I am constantly amazed at the sense of community that this school fosters. Our teachers and staff are committed and talented and the parents are engaged and supportive. With these two ingredients, we can do incredible things for young learners. As this new year begins I encourage you to get involved with the many events and activities that Springmyer has to offer.
So much instructional time was lost last year because of the pandemic. We are committed to doing everything we can to help students progress at a rapid rate and achieve at high levels. One critical ingredient in this process is ATTENDANCE. We urge you to work hard this year to get your child here on time everyday. It has never been more important than now that we capitalize on each instructional moment. When possible, please avoid scheduling vacations when school is in session. Likewise, if your child will be absent remember to call our attendance line and make us aware of the absence. If we work together on attendance there is sure to be a positive outcome for all our students.
When you come to school you are going to notice two really big changes. First, after two years of fundraising, and the overwhelming generosity of the community, the SPARKY PARK (our new playground) is under construction. The old playground was demolished in July and we hope to have the new one complete shortly after the start of school (*look for an invitation to the grand opening some time this fall). Thank you for supporting this major project and a special thank you to the PTA for all their efforts to make this happen. Second, thanks to the Oak Hills Board of Education our office area has had an upgrade. This new work area will help our office staff be more efficient in serving students, parents, and teachers during the school year.
There have been a few staff changes that I would like to bring to your attention. You are probably aware that Ellen Oliverio has retired after many years of service to Springmyer. Mrs. Andrea Elliott will be taking her place and supporting primary students with intervention services. Mrs. Jan Bedel also retired last year. Mrs. Missy Wittich will be coming to us from Delhi Middle School to take over the Health Room. Finally, Mrs. Julie Lanter, who was here last year as an Instructional Assistant, has taken a new job. She will be replaced by Mrs. Amy Rack. The remainder of the staff are coming back and should be in the same rooms ready to serve students on the first day of school.
Safety has been a big part of our conversations this summer. Guidance from the CDC and the Governor's office are changing daily and we are working to stay updated on changes related to COVID-19 and its variants. Questions about masks and safety protocols will be answered in greater detail when the district issues guidance and shares it with the community. Be watchful for further communication from Oak Hills Local School District in the coming days.
The Springmyer staff has selected a new theme for the 2021-2022 school year. Our theme, this year, is grounded in research and data that shows Springmyer students are struggling with regulating their emotions. We therefore, as a school, are going to work to help teach students strategies to identify and name their feelings, use strategies to moderate their emotions, and use strategies to control their responses to their feelings. Our work around EMOTION REGULATION will use a Llama (i.e., No ProbLlAMA Llama) as a mascot. It is our hope that this work will help our students in dealing with the challenges from last year and begin the process of starting fresh this year. Be on the lookout for more information as the year progresses.
As summer winds down and you plan for the school year ahead, I invite you to join us for our Open House and PTA Activities Fair on Tuesday, August 17th (3:30 to 5:30). Classrooms will be open so that students can drop off school supplies and see their new space. In addition, the PTA will host an Activities Fair in the gym, providing an excellent opportunity for parents and students to learn more about our many extracurricular and volunteer activities. We will also have shaved ice available for purchase in the outdoor classroom.
Class lists will not be posted on the doors but instead will be open within Progress Book on August 11th (4 pm) for families that have paid their fees and on August 18th for all other families. See directions below. Next week, additional information will be sent to you, including links for pertinent back to school tasks, including free and reduced lunch paperwork, EMA forms and other recurring documents. Please keep an eye out for that information.
This year, like last year, we will start the year with a staggered start. Students with the last name starting with A-L will come to school on 8/19/2021 as their first day. They will then not come back to school until August 23rd. Students with last name starting with M-Z will have their first day on Friday August 20th. All students will attend on August 23rd to start the normal daily schedule of school.
Enjoy these last days of summer! As always, do not hesitate to contact me if you have ideas, questions or concerns. Together, we will make a significant impact on our Springmyer Learners. It is going to be an excellent year.
In partnership,
Mark D. Winters
Principal
2021-22 Student Early Schedule Release & Payment Options
Dear Oak Hills Local School District Parents,
We are pleased to announce that we will be continuing the practice of families being able to access student schedules using Progress Book. This new system will provide more privacy for families, provide easier access to information and save families the inconvenience of having to check class lists posted on school doors.
1. Will the class schedule include the name of your student's teacher? Yes
2. How do parents get their student's schedule?
Parents may log into EZ Pay (or through other payment options listed below) to pay their 2021-2022 instructional fee of $85 to obtain their student's schedule, which will be available in Progress Book. There is information below for fee-waiver forms for families whose studentren qualify for free lunch under the National School Lunch Program.
3. How can families pay their student's instructional fee?
Cashless payments include EZ Pay online payments, drop off cash or check at Springmyer, or mailed check/money orders.
A. Online Payment – the preferred and quickest option:
Online Payment through EZ Pay – www.ohlsd.org
EZ Pay is the easiest, most secure and quickest way to make a payment.
Visit EZ Pay anytime after July 26th.
All EZ Pay payments made between July 26th and August 10th ensure the student's schedule is available in Progress Book by 4 p.m. on August 11th.
Parents paying with EZ Pay after August 10th will have their student's schedule available in Progress Book within 48 hours of making payment.
Parents who have multiple studentren at different buildings may pay all their studentren's fees at once via EZPay. Mailed checks/money orders should be sent directly to the student's respective school building.
B. Mailed check or money order to the student's school
Checks must include the student(s) name and how the payment should be allocated (instructional fees or extracurricular fees) Lunch payments are only accepted via EZPay or collected in the cafeteria at the start of school.
Schedules will be available in Progress Book within 48 hours of receiving the check/money order after August 11th.
C. In-person payment at the school
Only available starting July 26 from 8:00 to 1:30 pm.
4. How do parents get their student's schedule through Progress Book prior to the start of the school year?
Issue cashless payment (unless on federal lunch program).

Visit ohlsd.org.

Click Progress Book.

Login to your account (if you do not have a Progress Book account, contact your student's school).

Select "Schedule"
5. I am on free lunch, what is the process?
We have added an enhancement feature to www.lunchapplication.com (our online application system) and Meals Plus (our point of sale system). This enhancement allows families, while completing the application online, to check a box in order to share their information for fee waiver purposes. Parents can access the current free and reduced lunch application at www.lunchapplication.com. The lunch application link can also be found on the school website (www.ohlsd.us).
Near the end of the application, you will find a page asking if you are willing to share your information with other departments. By agreeing to share your information, you are authorizing the district to waive your school fees for this school year. Clicking on this box will eliminate the need to send in a paper waiver form authorizing your school fees to be waived for this school year.
You can still fill out a paper application. This application can be obtained online under the Food Services department at www.ohlsd.us. There is a box on the paper application to be checked as well, which will authorize the waiver of your school fees.
For those students who directly qualify for free lunch benefits as a result of receiving state benefits, you will still receive a paper fee waiver form for your signature. You must sign and return this paper waiver in order to waive your school fees. We encourage you to fill out the application (either the paper application or the online application found at www.lunchapplication.com) if you directly qualify for state benefits. This will generate an electronic waiver and eliminate the need to send in a paper waiver.
If your family is approved for free meal benefits, we will send an email indicating your approval status. If you choose to share your information with the district, we will also let you know your school fees have been waived for this school year.
If you have questions, please call Cyndi Anderson or Krista Greivenkamp, bldg secretaries at 513-574-1205 option 0.