Side Menu Ends, main content for this page begins
Back to Side Menu (includes search)
CCR Meeting for grades 9-11
Posted on: December 18, 2018 9:00 am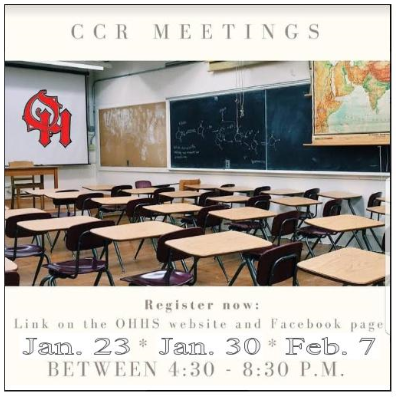 Sign-ups for Freshmen, Sophomore, and Junior College and Career Readiness (CCR) meetings have begun! CCR meetings provide an opportunity for you to meet as a student-parent-teacher team to discuss your child's future plans and goals as well as specific steps that your child needs to take moving forward.
Conversations are tailored to the questions that are most pressing to you and your child in regards to college and career readiness including testing data specific to your child. You will also receive an updated copy of your student's transcript including updated GPA and class rank.
College and Career Readiness Meetings are 30 minutes long, scheduled between 4:30 pm and 8:00 pm on the following days:
Wednesday, January 23rd (also) Torch Prep Meeting
Wednesday, January 30th (also) CCP Night
Thursday, February 7th
NOTE: If your child has been assigned an intervention specialist, you will be contacted directly to schedule your child's CCR Meeting and you do not need to use this sign up process as it will be done for you.
HOW TO SCHEDULE:
STEP 1: Click on the appropriate LINK (below) that matches the Letter Range of your child's last name.
STEP 2: Scroll through the teacher names in the left column - and locate your child's Tartan Time Teacher
NOTE: Your child's Tartan Time Teacher may not be the first teacher listed - keep scrolling.
STEP 3: Double check that you are about to sign up for your child's Tartan Time Teacher prior to selecting a time
slot.
SEP 4: Once you have found your child's Tartan Time Teacher, Click the "Sign-Up Box" for preferred date and
time.
STEP 5: Click "Submit and Sign-up" (Located at the bottom of the screen)
Step 5 will bring you to the sign-up page for your preferred date and time.
STEP 6: Complete the "Sign Me Up" page by entering your information in the required fields:
Student Name (first and last)
Parent Information (Name and Email Address)
STEP 7: Click "Sign Up Now"
You will receive a confirmation of your appointment and will receive a reminder email two days prior.
SIGN UP LINKS
Juniors "SignUpGenius" Link:
Sophomores "SignUpGenius" Links:
Sophomore Class: Last Names A-PL
Sophomore Class: Last Names PM-Z
Freshmen "SignUpGenius" Links:
Freshmen Class: Last Names A-NEA
Freshmen Class: Last Names NEB - Z