Side Menu Ends, main content for this page begins
Back to Side Menu (includes search)
Highlander GMC Athletes of the Week
Posted on: January 1, 2020 6:30 pm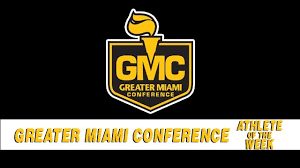 Congratulations to our Highlanders named GMC Athletes of the Week!
Brooke Walter Sr. Girls' Bowling
In her second year as a member of the bowling team, Brooke earned a spot on the Varsity team, raising her average by 23 pins! Brooke is a great leader for our team, bringing positivity and enthusiasm to every match, regardless of how she is bowling. Brooke is a High Honors student and is a great mentor to her teammates.
Jessie Ludwig Sr. Girl's Swimming
Jess is an honors student-athlete with a true heart. She is our athlete of the week, not for what she does in practice or in a meet, but rather what she does for the team. A 4 year team member, Jess organized our Christmas gift exchange and donated money and time to make sure our Christmas Eve event was a success.
Ben McRae Sr. Boys' Swimming
Ben is the true heart of the team. His work ethic sets the example needed for the young team. On the rare occasion, he is not in the water, his leadership is sorely missed. He leads his lane and all others follow. He is no stranger to hard work and the rest of the team is better with his presence.
Dy'Jhanik Armfield Sr. Girls' Basketball
Dy'Jhanik, a senior captain, scored 16 points, grabbed a career-high 9 rebounds and dished out a season-high 8 assists and had 3 steals to lead Oak Hills to a non-league win over Milford on the road. She leads the Greater Miami Conference in steals at 3.9 per game and is second in the GMC in scoring with a 17.8 average and second in the conference in assists at 3.8. Dy currently carries a 3.1 Grade Point Average.
Tanner Murphy Sr. Boys' Basketball
Tanner is one of our team's "glue guys". Tanner has already taken 18 charges in our first 8 games. He knows our scouting reports, as well as any player on our team, and he is a vocal leader and great teammate. Tanner has served in student government for all 4 years of high school, currently holds over a 4.0 GPA in honors and AP classes, acts as the president of Oak Hills chapter of FCA, is a member of the National Honor Society, and plays varsity Baseball.