Side Menu Ends, main content for this page begins
Back to Side Menu (includes search)
Highlander GMC Athletes of the Week
Posted on: September 12, 2023 2:00 pm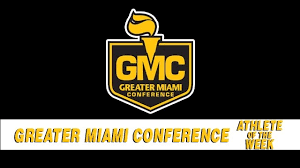 Congratulations to the Highlanders who were named GMC Athletes of the Week!
Ava Linnenberg Girls' Tennis Sr
Ava won her 3rd doubles match of the year this past week in a 2 set win against Colerain.
Joel Harris Boys' Soccer Sr.
Joel scored (4) goals this week that included at least one in all three games. His (2) goals against #5 Elder led the Highlanders back from a 2-0 deficit to secure a 2-2 tie.
David Surman Boys' Cross Country Sr
David has been training like a champion all summer and the most recent race at Little Miami is proof. He ran a new personal best of 17:37, finishing as the Oak Hills 4th runner. This was a huge improvement over his first two races this season, but he isn't done yet. The trajectory that David is on will surely bring more great performances before the year is over.
Daniel Soto-Miranda Boys' Soccer Jr.
Daniel is a foreign exchange student from Spain, who had one assist in each of the first two matches he played. His assist on Saturday helped Oak Hills secure a 2-2 tie with the current #5 ranked team in the city (Elder).
Natalie Reed Girls' Soccer Jr
Natalie, a junior captain on the backline, helped the Highlanders earn the team's 4th shutout of the season this week. Natalie has been part of a stingy defense that has only let up 6 goals all season, and has been a huge part of the team's attack by flying forward and serving dangerous balls into the box. Natalie also has a 4.0 GPA and takes AP and College Credit Courses.
Jimmy Breeze Football Sr
Jimmy is a senior captain and anchor of the defensive line. He recorded 6 tackles including a sack against Hamilton. Jimmy also maintains a 3.48 grade point average.
Peyton Stockhoff Girls' Volleyball Sr.
Peyton had 34 kills and 24 digs in big matches this week. She maintains a 4.0 gpa as well.
Bethany Bachman Girls' Cross Country Jr.
Bethany is an incredibly hard working, positive, and kind athlete. She continues to push herself and improves at every practice. At the Lebanon Invitational she improved her time by almost 2 minutes from last year's Lebanon race. After just two races this season she is just 18 seconds away from her personal best time. Bethany also has earned a 4.0 in the classroom.