Oak Hills High School News
Highlander GMC Athletics of the Week
Posted on: April 13, 2021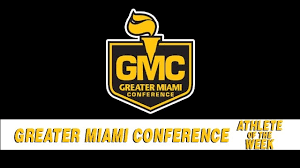 Congratulations to our Highlanders that were named GMC Athletes of the Week!
Max Doerger Boys' Tennis Jr.
Max has improved tremendously since his freshman year which shows in his record this year as Max has picked up three wins for the team. Max plans on attending a technical college for automotive mechanics.

Kylie Lockwood Softball Soph
Kylie started her sophomore season out hot. She is currently hitting .696 with a .750 on-base percentage. She hit her first High School home run, has 4 doubles and 10 RBIs Kylie had the sole hit against Mercy-McAuley to give the Highlanders the 2-1 win. Kylie is the leader of the squad behind the plate. She is also a standout student in the classroom as well. Kylie's hard work in the off-season is paying off.
Cannon Kartye Boys' Track Jr
Cannon is in the midst of his first year as a track & field athlete but competed Friday at Coaches Classic like he's been running track for years. In a very talented field of 800m runners (and after a 90 min lightning delay), he stepped up and raced very courageously, earning an 8th place finish.
Chloe Amlin Girls' Track Sr
Chloe led the charge for Oak Hills by winning the first event of the day, the 100m hurdles, at Coaches Classic. She followed that up with a 5th place finish in long jump. As a senior year, Chloe continues to be an excellent leader and example for her teammates.
Jameson Richmond Baseball Jr
Jameson finished with 7 hits in his 9 at-bats for the Highlanders this week.. a .778 clip. Those hits included 2 triples and a double. He also added 3 RBI's and 5 runs scored which lead a Highlander offense that is just starting to find a rhythm.

Carlo Papacharalambous Boys' Volleyball Sr
Carlostotaled 30 kills on 68 attacks with only 9 errors, 21 digs, and 5 aces on 24 serving attempts in two games last week, Princeton and Lakota East. He currently leads
the team in kills, aces, digs, and holds the team's highest serve-receive-passer
rating.