Side Menu Ends, main content for this page begins
Back to Side Menu (includes search)
"Portraits of Kindness" at the Fitton Center for Creative Arts
Posted on: December 12, 2018 11:10 am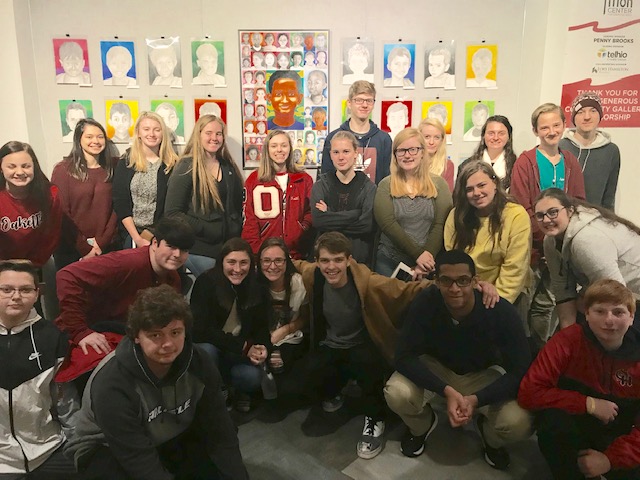 The OHHS Drawing and Printmaking students are exhibiting this year's Memory Project portraits at the Fitton Center for Creative Arts. The Memory Project exhibition showcases portraits created for the Rohingya refugee children before they are sent off for delivery by the organization. Compilation images of past portraits will be showcased as well to illustrate the OHHS students' global impact through the works they've created as a part of The Memory Project, and hopefully inspire involvement from many more young artists.
Some of the Drawing and Printmaking, and National Art Honor Society, students recently had the opportunity to visit their exhibition at The Fitton Center for Creative Arts. Students reflected on their experience with creating this year's Memory Project portraits which will be mailed out for delivery in January. "Portraits of Kindness" will be on exhibit throughout the month of December.
The exhibition can be viewed in the 1st floor Community Gallery from December 4th through the 31st.
You can view more images of the students with their artwork, and reflections, at www.ohhsartdesign.com.