Side Menu Ends, main content for this page begins
Back to Side Menu (includes search)
The 2018 Save Local Waters Rain Barrel Art Project
Posted on: February 2, 2018 9:00 am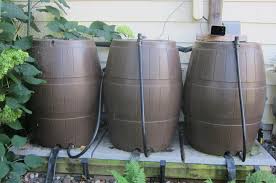 This Rain Barrel Art Project was created to promote the use of rain barrels throughout the Ohio River Valley area through a creative and educational medium.
Rain barrels continue to grow in popularity across the country. However, one of its biggest drawbacks is their dull appearance. Some people are less likely to use them given their negative aesthetic impact to residential and commercial landscaping, even though they conserve water and save money. The "Save Local Waters" initiative believes that producing beautiful artistic rain barrels that have unique painted details will make them more desirable and naturally increase interest to promote their use.
The Rain Barrel Art Project desires to educate people on environmental issues like stormwater runoff, watersheds and water conservation.
This year, OHHS Painting and Mixed Media students from Ms. Schorsch and Ms. Kopf's will be creating 6 Rain Barrels for this year's event. Congratulations to all of the students who were selected by their peers to submit pieces for the jurying. Congratulations to Cassie Stevens, Donna Derrenkamp, Sarah Carter, Anna Mestemaker, Alexis Lepof, and Emma Sedlack on the selection of their design by the "Save Local Waters" committee for this year's event!
Rain Barrels will be displayed at the Cincinnati Zoo April 1st-19th and auctioned off from April 9th-19th. All auctions will be finalized at the Rain Barrel Benefit Auction held during Party for the Planet on April 19th. Visit the OHHS Art and Design Facebook page for images of the progress!