C.O. Harrison Elementary School News
Grant allows OHLSD, Cincinnati Children's to partner for mental wellness services
Posted on: February 19, 2021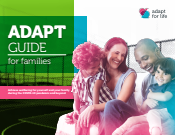 Adapt for Life program gives students tools to help themselves and others cope with stressors and lead healthier lives.
OHLSD Student Services Department, in partnership with Cincinnati Children's Hospital Medical Center, was awarded the grant through the Hamilton County Mental Health and Recovery Services Board to expand mental wellness services for students in grades K-12.
The Adapt for LIfe program will provide education, supportive services and earlier interventions to enhance Oak Hills students' mental health and wellbeing.