Haunted Colleges
Posted on: September 25, 2017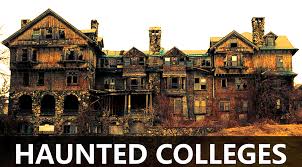 by Alli Auel
With Halloween just around the corner, everyone is excited for haunted houses, cold weather, scary movies, and much more. But Halloween isn't the only thing on everyone's minds. For the juniors and seniors of Oak Hills High School, college is their main focus. Because of that, many students are visiting colleges all over country. But many students are unaware that there are more to some colleges than just the programs and academics. Some colleges are haunted! If you're still undecided about where to go to college, below are some spook-tacular ghost stories from some of Ohio's haunted Colleges that might affect where you go to school.
Kenyon College
Founded in 1824, Kenyon College in Gambier is the oldest private college in Ohio. Besides being the oldest private college in Ohio, Kenyon college boasts excellent academics, a stellar English program, and is home to various ghosts and apparitions. One of the most notable hauntings occurs at Old Kenyon Dorm, which burned down in 1949. The ghosts of nine students who died in the fire are said to haunt the first floor, while a Delta Kappa Epsilon fraternity pledge, who died during his initiation, has been seen on the fourth floor. According to legend, the Delta Kappa Epsilon Fraternity pledge was struck and killed by a train on October 28, 1905, and appears in a window on the fourth floor on the anniversary of his death.

According to Haunted Ohio, by Chris Woodyard, there are seven other haunted buildings on campus, including Norton Hall, Lewis Hall, Manning Hall, Caples Hall, Wertheimer Hall, Shaffer Hall, and Hill Theater. Hill Theater is thought to be haunted by the ghosts of two people who died in a drunk driving accident. Poltergeist activity has been reported in Lewis Hall, which is blamed on a student who allegedly committed suicide there. Various other ghosts are said to appear throughout campus, making Kenyon College a very haunted place!
Ohio University
Once one of Ohio's largest hospitals for the mentally ill and the criminally insane, the Athens Lunatic Asylum was the pinnacle of care when it opened in January of 1874. After years of treating patients, the hospital finally closed its doors in 1993, having donated much of its property to Ohio University. The University immediately began renovating some of the buildings. Almost as soon as the old portions of the asylum, which became known as "The Ridges," were renovated and reopened, students claimed to experience paranormal activity. Students claimed that disembodied screams would ring through the empty halls in the middle of night, mysterious figures would walk the former grounds of the demolished tuberculosis ward, and electronics would malfunction.
Nicholas A. Lantz, a paranormal investigator, tells of a horrifying discovery in his book Ghosts and Legends of Athens, Ohio. In December of 2013, he was able to gain access to The Ridges for a proper investigation, and had the rare opportunity to visit the basement where he found an abandoned room with slimy brick walls. As his flashlight pierced the darkness, Lantz claims he came in contact with a disturbing former patient. Creepy, right?!
Bowling Green State University
Bowling Green State University is home to about 17,000 students, but that's not the only thing that University houses. Legend has it that the University theaters are haunted by Alice, supposedly the ghost of a former Bowling Green actress.
According to Amy West, a writer for BGSU News, Alice, the theater ghost, is said to haunt both the Joe E. Brown and Eva Marie Saint theaters in the University Hall. Who Alice is remains a mystery. Some legends say that she was an actress playing the role of Desdemona and was killed by a falling object during a performance of Othello. Other stories say she was a former theater student who was killed in a car crash while returning to the University to collect her award for Actress of the Year. Superstition holds that Alice must be officially invited to all performances by the stage manager alone on the stage after the final dress rehearsal. Usually, a seat is left for her at each performance. Some students have claimed to see Alice in the theater; one student even thought he saw her on stage during a performance of "Othello." Regardless, if Alice is not invited to the performance, the shows can experience both minor problems and larger disasters. I wouldn't want to upset Alice!