Oak Hills High School Seeded 3rd for OHSAA Basketball Tournament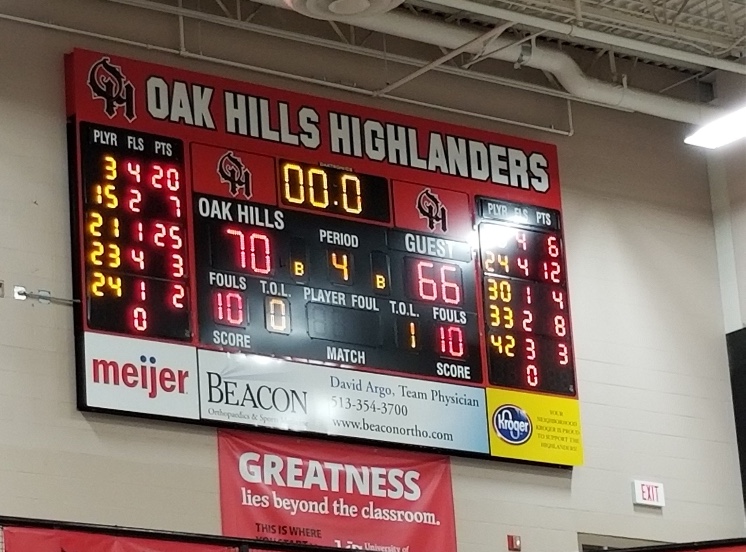 By Guest Writer Maurice Bibent
With the State basketball tournament coming up in the next couple of weeks, Oak Hills was looking for a decent seed and possibly a first round bye. With a 15-6 record (as of 2/14/18) , 11-4 in conference play, Oak Hills was given the 3 seed over Mason who is sitting at a 4 seed with a record of 15-4. With the 3 seed, it gives Oak Hills a first round bye Before they take on the winner of Northwest (12-8) and Fairfield (7-13) on Wednesday, February 28th at Lakota West High School. If the bracket plays out as expected, Oak Hills will face St. Xavier in a rematch of the regular season game that ended in a St. X buzzer beater to take the win at Oak Hills High School, 52-51.
Last year Oak Hills finished with a solid 22-4 record, claiming the GMC title with only one loss in conference play. Losing a couple of key players including two division 2 guards, the team didn't really know what to expect out of this year. So far it has been a good season but not what they had hoped for. The shot of a consecutive conference title is out of contention but the hopes for a good run in the tournament are high. Junior forward Jacob Berkemeier feels very confident heading toward the tournament. When asked about the teams goals, he simply replied, "I only have one thing to say, Oak Hills High School, state champions". It is a bold statement but nothing out of reach. The team is known for raising to the level of its competitors and feel that they can hang with almost anyone.
Oak Hills ended the regular season with a double overtime win vs. Mason to finish GMC runner-up to Princeton. Looking further into the tournament, Berkemeier mentioned that Moeller is the team that the Highlanders hope to eventually tangle with. "They're well coached, extremely talented and have 3 division 1 players". Last time the two played each other Moeller dominated the game and won by over 20 points. But that doesn't mean Oak Hills isn't ready for a rematch. The team has grown and won 14 games since then, including the big win over Mason. Berkemeier believes that if they keep playing together as a team, follow the game plan and play hard, it'll give us a good shot to keep winning."It's rare everybody likes each other, we all can hangout no matter who you are, we get along and that's really cool." With this kind of teamwork and connection there is no telling how far this team can go and what can be accomplished.