Side Menu Ends, main content for this page begins
Back to Side Menu (includes search)
National Merit Scholarships for Class of 2017
Posted on: October 10, 2016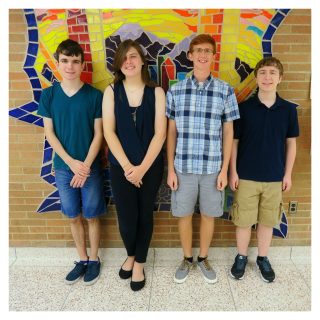 4 Dedicated Highlanders are National Merit Scholars
By: Hannah Welling
The National Merit Scholarship Corporation announced its annual list of National Merit Semifinalists, recognizing four seniors at Oak Hills High School. National Merit Semifinalists make up the top one percent of PSAT test takers in the state. Abigail Coogan, Andrew Evans, William Oyler and Casey Schablein were named National Merit Semifinalists from Oak Hills.
Cincinnati is a huge source for National Merit Scholars in Ohio. Our four Highlanders are among the few, carefully selected of the 120 in the Cincinnati area. The Cincinnati Enquirer reports 200 in the region were named National Merit semifinalists. They are among 16,000 semifinalists selected from about 1.5 million juniors who entered the competition by taking the 2014 Preliminary SAT/National Merit Scholarship Qualifying Test. Four of the region's high schools had at least 15 students in this elite group; Mason High School topped the list with 23 semifinalists, followed closely by Walnut Hills with 22. Sycamore and St. Xavier high schools complete the list with 17 and 15 semifinalists. About 90 percent of semifinalists will be named finalists in February of 2017. Finalists are eligible for $2,500 scholarships awarded by National Merit and other scholarships awarded by colleges, universities and businesses.
To become a National Merit finalist, each semifinalist and his or her high school are required to complete a detailed scholarship application, that provides information about the candidate's academic record and extracurricular activities. Merit Scholar designees are selected on the basis of their skills, accomplishments and potential for success in rigorous college studies.
All of the Oak Hills High School students who receive recognition from the National Merit Corporation will be honored before the start of the Oak Hills Highlander football game on September 23.