Author Kelsey Timmerman Visits OHHS Students
Posted on: September 26, 2017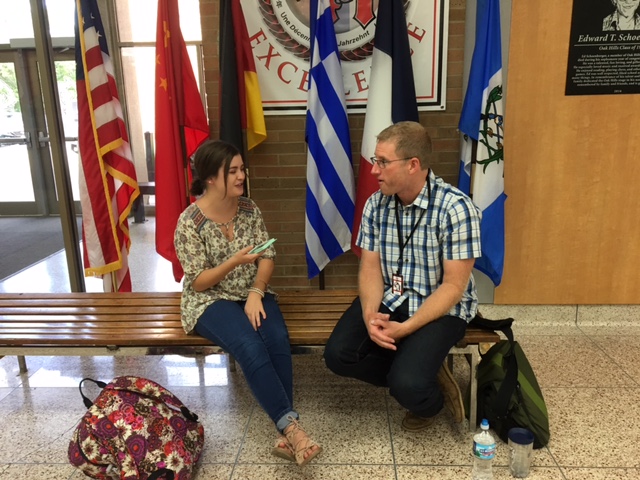 by Alli Auel
Many westsiders, including Oak Hills High School students, have little experience and knowledge of the outside world. Most individuals are ignorant to the hardships faced just minutes down the road from them and especially the ones thousands of miles away.
Author, journalist, and traveler Kelsey Timmerman brought the realities of the outside world to individuals across the United States when he decided to document his journey to uncover where his clothes and foods came from in his books, Where Am I Wearing and Where Am I Eating. These two books follow Timmerman as he travels to countries such as Honduras, Cambodia, China and many more. Both books intimately describe the connection between impoverished factory and farm worker's standards of living and the all-American material lifestyle. By introducing readers to the human element of globalization—the factory workers, their names, their families, and their way of life—Where Am I Wearing and Where Am I Eating bridges the gap between global producers and consumers.
Oak Hills High School AP Language and Composition students caught a glimpse of those realities when they were required to read one of Timmerman's two books this past summer. After learning the hard truth of the lives of those across the world, on Thursday, September 7th, AP Language and Composition, AP Seminar and AP Human Geography students were granted the opportunity to meet Timmerman in person. Timmerman was invited to OHHS to share the stories of his travels with the lucky AP students.
Timmerman presented students with both humorous and serious stories from his travels abroad, as well as personal encounters with many different types of individuals. The goal of Timmerman's presentation was to show OHHS students that their luxuries and materials are produced by people who have little to nothing, but still manage to find joy in life. Timmerman hoped to teach students to always think about others and to find their life's purpose.