Drumline...Next Big Thing?
Posted on: October 10, 2017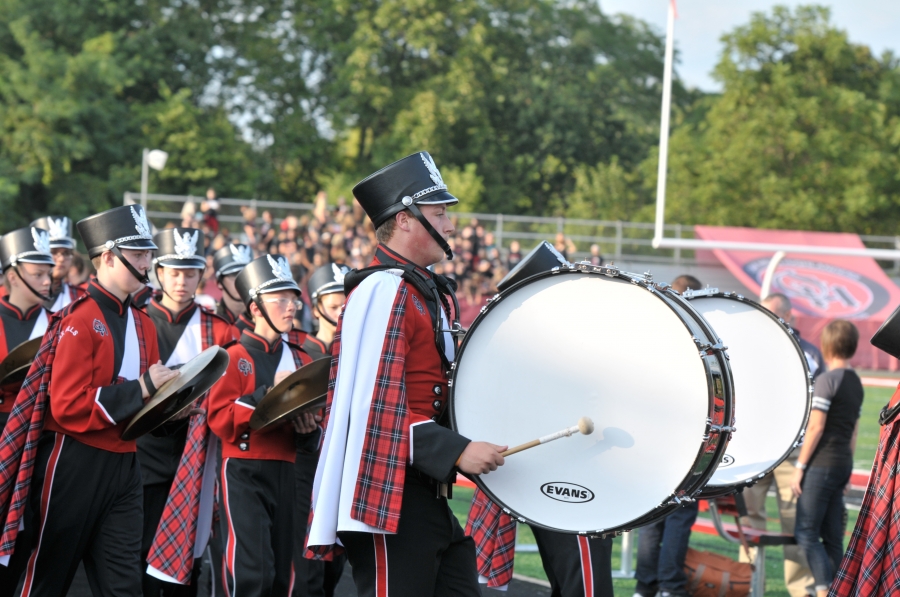 by Leah Lindemann
Ever since the first-day-of-school pep rally, drumline seems to be the hottest topic within the student body these past few weeks.The drumline phenomenon has constantly been growing since with features on Snapchat and even a request for a mixtape. Every student, especially seniors, anticipate the drum line's iconic halftime performance in front of the Red Sea. The whole atmosphere changes when the drumline walks out. More cheering and positivity radiates from the stands with excitement. If the football team isn't doing so hot, then Senior Carl Fisher and the drumline will pep the student body back into shape by pounding on their drums.
Fisher has participated in the drumline since bandcamp of freshman year, but has been in band for a total of eight years. From an outside perspective, the drumline may appear to be just pounding a stick on a drum, but the activity takes a lot of hard work and dedication. Carl practices three days out of the school week, sometimes even four, depending on if the band has a competition that weekend.
Learning music seems to be a bigger challenge than actually playing the instrument, especially because they have to memorize it, but it gets easier with the opportunities to practice all the time. The chance to participate in the drumline has taught Fisher to become more organized and help him learn the skill of time management. Since drumline has been such a hot topic, people seem to look and act differently towards Carl. Some people consider him almost as a hero. Fisher says he feels like "the guy everyone knows is just someone they see from the Prep Rally's and playing in the student section during the football games."
Since Carl is now a senior, high school will be over before he knows it. He does not plan to do anything music related in college, but the Army has offered him to be apart of their drumline. Sadly, Carl has declined and his drumline career will stay with Oak Hills High School as he moves onto college. Fisher wishes to leave a legacy to future drum liners by being a good role model and person all around. Even though he is not planning to further his drumline career, he does recommend drumline to all incoming freshman and even current high schoolers. He believes it is very enjoyable because he got to meet some awesome people who share the same interests as him. The drumline gets to explore and perform at different places around Cincinnati, which he thinks is an awesome experience. The music taste of the student body has shifted this year because today's drumline is the next big thing. Move over football players, Carl Fisher and his drumline crew are making their way to the top.