OHHS Alum Now NKU Cross Country Star
Posted on: November 30, 2017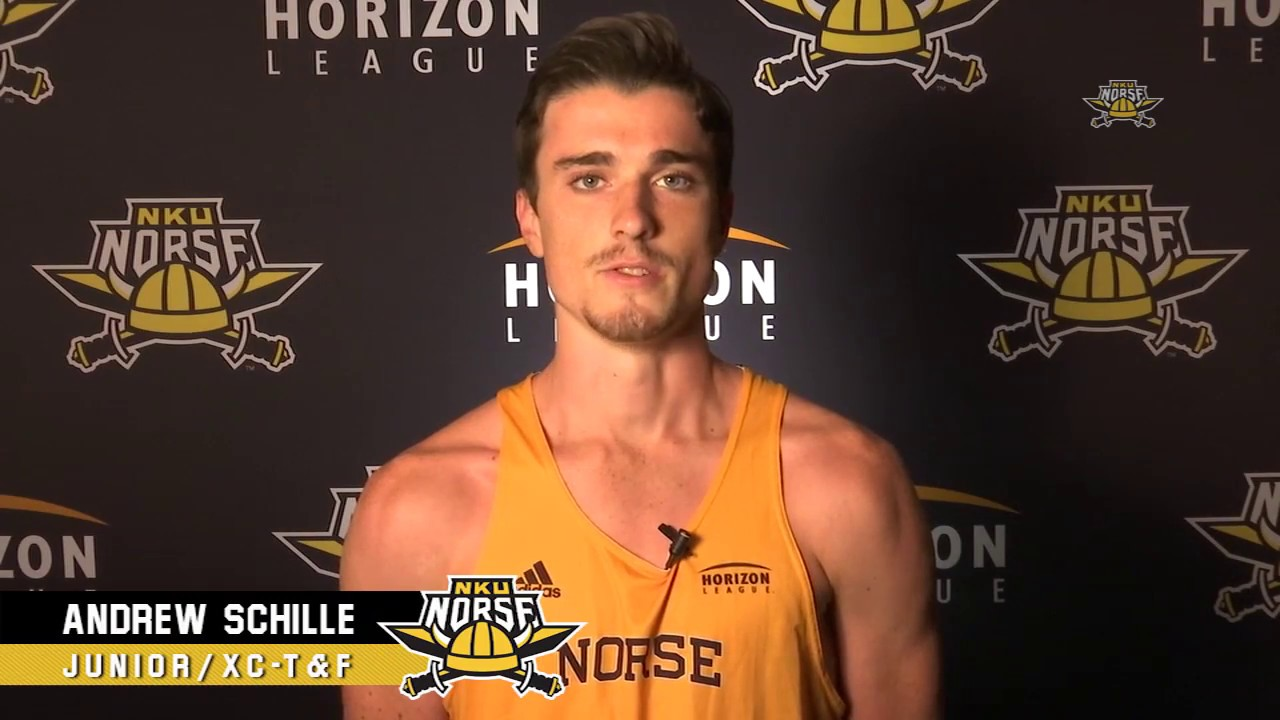 by Alli Auel
Andrew Schille once walked the crowded hallways of Oak Hills High School. But when he graduated in 2014, he traded in his highlander kilt for viking gear and became a Northern Kentucky University Norse. During his time at Northern Kentucky University (NKU), Schille has applied his scholarly and athletic abilities learned at Oak Hills to his college experience, becoming one of NKU's greatest cross country runners.
In high school, Schille was a mediocre student and, depending on which Oak Hills High School teacher you ask, had various "classroom" personalities. "In some classes I just sat in the back and did my work quietly, while in some classes I may have been disruptive to others," stated Schille.
When asked, Schille specifically remembered various high school class memories, including notable Oak Hills High School English teachers. "I remember being in Mrs. Tuchfarber's English class where I said about two words the whole semester to other people. Yet I also remember getting scolded by Mrs. Jenemann in AP Lang for talking in class, that one time I called her 'Debra' in front of everyone, and for using too many 'to be' verbs in writing assignments," recalled Schille.
Besides taking part in the typical high school academics, Schille played soccer his freshman and sophomore year. But that wasn't meant to be. After not participating in a sport for some time, Schille began to feel like his time could be better spent taking part in another sport or activity. Motivated to increase his athletic abilities, one day Schille woke up and just decided to run. After running consistently for quite some time, Schille was discovered by Oak Hills High School's Track and Cross Country coach, Ben Hageman. That moment was the birth of Schille's cross country career.
After being recruited by Hageman, Schille started going to practice. Schille began building relationships with not only his fellow varsity peers, but also his track coaches as well. "I was grew very close with Mr. Hageman and Mr. Richards, who currently teaches at Ross, because they were my coaches, and offered me much support," said Schille.
While running for Oak Hills Track and Cross Country, Schille built up the skills that prepared him for his victorious cross country career. "I would say running in high school at Oak Hills prepared me well for college," said Schille. Schille attributes the rigorous cross country and track practices to his success as a college runner. "I ran enough (during high school) to where I could adjust to the college training volume without too many setbacks," explained Schille. However, Schille felt that at the same time he wasn't pushed so hard that his love for running diminished.
Schille was definitely prepared well for college. During his senior year of High School, Schille was recruited by NKU to run for their cross country team because of his talent and potential. While being a member of NKU's cross country team, Schille has continued to expand and better his running capabilities.
As a freshman in college, Schille ran the 6K at the Queen City Invite with a time of 18:39.4, placing him in third. Additionally, Schille ran a season best time in the 8K at the Horizon League Cross Country Championships with a time of 24:57.5 placing him in fourth, which would tie his best finish on the year, earning him All-Horizon League First Team Honors and Horizon League Freshman of the Year honors.
In 2016, as a sophomore in college, Schille earned All-Horizon League First Team honors placing fourth with an 8K time of 25:33.70. Additionally, Schille not only placed second at the High Point University Vert Cross Country Invitational with an 8K season-best of 25:05.10., but also won the Queen City Invitational with a 6K time of 18:14.80.
Schille's cross country resume is only becoming more impressive. This school year Schille has been named Horizon League Men's Runner of the Week. "I would have to say winning the Horizon League Individual Cross Country title this season was my most victorious moment at NKU," said Schille. Schille spoke highly of the effort and training he put in to achieve such goals this past season. According to Schille, he worked "harder than he ever had before" in preparation for this past season.
Schille's worth ethic is one to brag about. In an article with The Northerner, the student run newspaper at NKU, Schille's coach described him as a "prolific trainer" which Schille feel is an accurate statement about himself. "I do my best to be productive and get the most out of myself and my training because that's what it takes to be successful at the DI level," commented Schille.
Besides excelling in cross country, Schille has spent a tremendous amount of time mastering the material in his major, Exercise Science. While in Exercise Science Program at NKU, Schille has been able to achieve a respectable GPA even after a not-so-respectable first few semesters. After acclimating to college life, Schille was able to earn Provost and Dean's list recognition. This semester specifically, Schille also engaged in undergraduate research which Schille said to be "extremely educational and interesting." Schille explained how participating in research in Exercise Science has also allowed him to garner beneficial experience with equipment and software that he will most likely use in his career.
Schille's cross country career has also contributed to his accomplishments in his Exercise Science Program. "Running in college has allowed me to meet and network with people that I would never have met without," said Schille. Schille very recently just secured an internship at St. Elizabeth hospital for Pulmonary Rehabilitation and one of the people that interviewed him was the mother of one of his former teammates. Schille explained how because of his cross country connections, the interview went extremely smooth and allowed the interviewers to grasp a better hold of his character and personality.
Schille continues to impress his current and former professors and coaches. "It was always evident that he had talent, but he has exceeded even our wildest expectations," said Schille's former high school Track coach Ben Hageman. After his college cross country career comes to an end, Schille plans on pursuing his career in exercise science and is even contemplating on starting a band or trying out amateur boxing. Schille's coaches and professors are confident he will carry on his excellent work ethic over into whatever he goes after in life.