OHHS German Exchange Program
Posted on: September 12, 2016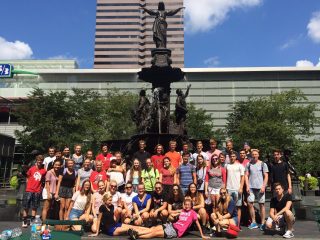 By: Alli Auel
Miles, language, and cultural differences sometimes make us feel worlds apart from one another. However, when you welcome an international high school exchange student into your home for weeks, months, maybe even years, you quickly discover they become family. Through conversations and experiences at home and school, you will learn how close together the "worlds apart" can really be.
On Friday, September 2, 25 Oak Hills High School students got their first glimpse of how close the "worlds apart" really are. Each student openly welcomed an exchange student from Dingolfing, Germany, into their family for the upcoming three weeks as a part of the Oak Hills High School German Exchange program. The Oak Hills High School German Exchange program provides 25 American students with the opportunity to travel to Dingolfing, Germany for three weeks to stay with their German exchange partner, who they are expected to host in their home the summer before they travel.
By hosting a German exchange student, or any exchange student for that matter, students and their families are presented with the possibility of gaining rich benefits from the experience. For starters, students are able to build a relationship with their exchange partner prior to their trip across the pond, therefore making the transition into a new, temporary home more comfortable. In addition, students and their families acquire different perspectives on various cultures just by welcoming a German exchange student into their home. Oak Hills German teachers Rogar Schneider and Rob Vaske feel the same. "The fact that they (American students) get to experience different cultures and other perspectives of cultures is the very beneficial," Rogar Schneider said. Lastly, by welcoming an exchange student into your home for three weeks, you become more immersed in your surroundings and community and may experience new things in your hometown that you never knew existed. For example, by showing your exchange student around town, you may discover a new restaurant or museum you did not know existed.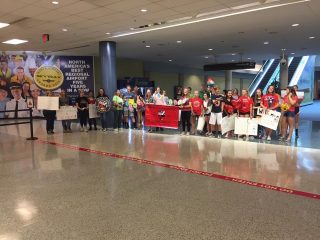 However, the program does not stop there; it's only the beginning! The next step is the long awaited trip to Germany, which is a first for many Oak Hills Students. Some parents may cringe at the idea of sending their teenager away to another country for three weeks. However, traveling abroad offers many benefits for students, especially for some who are wanting to pursue a public service or global relations work as part of a business or political career. By traveling abroad, students are able to sharpen their self- awareness, enhance their perspectives on other cultures around the world, and foster their independence. Junior Lindsey Oaks, who has previously traveled to Dingolfing, Germany during the summer of 2016, stated that her trip to Germany has allowed her to gain knowledge about another culture that she never thought she would learn.