Side Menu Ends, main content for this page begins
Back to Side Menu (includes search)
Something Bugging You?
Posted on: February 2, 2018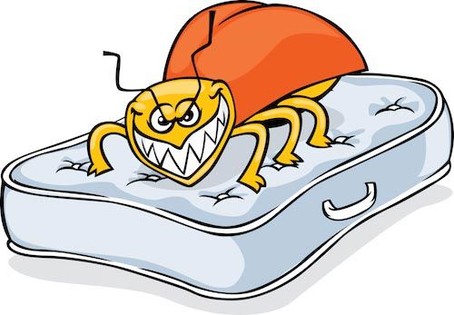 by Kelsey Schwegman
For many years, Cincinnati has been named one of the top cities for bed bugs. According to CBS,Cincinnati is ranked the eighth worst cities for bed bugs. Of the other three cities listed, Columbus, Dayton, and Cleveland, our very own Cincinnati has been listed on top. Writers for CBS advise travelers to think twice about visiting these four cities, especially Cincinnati, claiming that there have even been reports of bed bugs in public libraries.
Recently, I reached out to Mark and Jen Winter, owners of Bed Bug Solutions, located in Cincinnati, to get answers on how to keep out of the harm's way of bed bugs. Our Buckeye state could very well be the number one city for bed bugs, the Winters told me, especially since their business has flourished in recent years. Healthcare workers, frequent doctor visits, and having in home health care are Bed Bug Solutions biggest customers. Infestations can start with just one bug and they warn that there is a possibility of getting bed bugs anywhere in public. But do not fret! Your local school newspaper has you covered. I want all my peers safe from the bed bug epidemic and have all the facts to keep you safe!
The Winter's treat about 12-15 houses and apartments within the Cincinnati and Dayton area on a weekly basis. They use a chemical treatment process specifically designed to kill bed bugs that isn't generally harmful for humans and pets. About ninety five percent of their customers didn't see any more bugs after the first treatment, but Bed Bug Solutions always plays safe and returns in 2-3 weeks later to spot treat and inspect a second time. It usually takes families 2-4 weeks to realize they have an infestation. Because most people are allergic to bed bugs, bite marks begin appearing on their skin. When people notice the bite marks is when they conclude they have a bed bug problem. It hasn't yet been proven whether bed bugs spread disease, but entomologists (scientists that study insects) around the country have been looking for answers.
The Winters would not advise families to stop doing things they enjoy, but rather to take precautions afterward when they arrive home. Since bed bugs can be found almost anywhere -- public transportation, healthcare facilities, schools, college dorms, churches and movie theaters -- they say to keep purses, backpacks and shoes away from furniture and beds. They advise to also be sure to change clothes when arriving home and leaving them away from beds and furniture if not washed immediately. When traveling, Winter says to be sure to pack a trash bag with everything and putting clothes in it before traveling home. Be sure to also wash all clothes, clean or dirty, and keep them away from bedrooms and furniture until it's thoroughly washed.
Overall, it's quite simple to keep bed bugs out of your life! It doesn't seem to be difficult at all, especially if your laundry room is far from any bed or couch. Bed Bug Solutions were very good about answering all of my questions in as much detail they could and they were very helpful and polite! Having trouble with bed bugs? You can reach Bed Bug Solutions with email ([email protected]), calling them at (513) 502-4681, or reaching them through the 'Contact Us' tab on their website (http://www.bedbugsolutionscincy.com)!