Side Menu Ends, main content for this page begins
Back to Side Menu (includes search)
Back to Back Champs
Posted on: October 24, 2016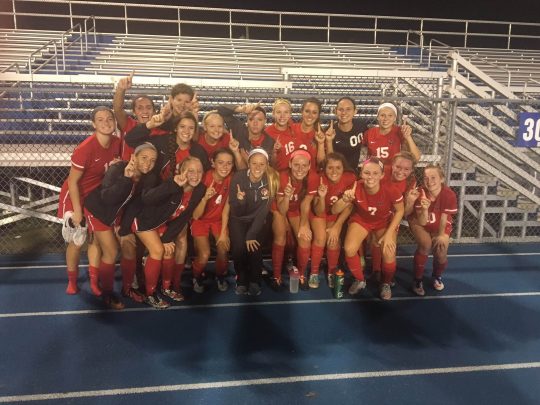 By: Ethan Cundiff
At the start of the season, the program had many concerns: coming in with a new head coach, Kevin Spraul, and losing multiple Division I players. Surprisingly, it didn't affect the Highlanders much at all because of multiple returning players from last year's team and gaining new young talent that helped the team get to where they are, which both continues to push them even farther forward.
"Pressure who needs pressure," that was the Oak Hills Women's Soccer team's mindset all year. Coming into the game against Hamilton, the team ended up undefeated in the GMC and only had one blemish to their overall record. The girls program won the GMC title last year and were looking for it again this year. Winning this game at Hamilton will seal the number one spot in the GMC conference for the Highlanders.
The game was back and forth for the first 75 minutes; both teams getting plenty of chances. Then, in the 78th minute, team captain Mikayla Jung played a ball for Paige Knorr to run onto. She slid it right past the goalkeeper and the rest is in the books. When I asked Knorr about how it felt scoring the game's winning goal that led them into the GMC championships for the second year in a row, she replied with, ¨It was such an amazing feeling to score the game's winning goal with just a minute thirty left. It has been our goal from the beginning of this year to win the GMC's for a second year in a row. Winning showed how much we wanted it and how much we deserved it.¨
The girls had a fight waiting for them, and they were ready for that fight. When I asked Jung about how she felt watching the ball going into the back of the net, she said, ¨Once I passed the ball to Paige I knew somehow she was going to find the back of the net. As soon as she scored, it was one of the greatest feelings ever; especially with barely any time left in the game. I knew she had it. I started tearing up right before she even shot and once it went in I was crying. Once the final whistle was blown, the whole team sprinted to paige and all got in a huddle and were hugging. I couldn't even keep the smile off my face. I was so excited to be back to back GMC champs. It was by far one of the best experiences." To win the GMC championship is hard to do with the talent that is in the conference, but to do it two years in a row, one with a new head coach, is pretty impressive. As their season continues, the team's confidence will continue to grow as the push for a state title run.