Side Menu Ends, main content for this page begins
Back to Side Menu (includes search)
Basketball Season
Posted on: December 14, 2017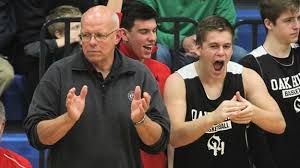 Coach Price with members of the team
by Hailey Parker
As fall turns to winter, the sport focus transitions from tossing around a football to the bouncing basketballs on a court. The Oak Hills basketball team will take on a much different look this season. The most noticeable is the loss of the graduated seniors. Yet as Coach Mike Price states, ¨We're a different team, we need to take on their own identity. I'm not worried about replacing them, I'm worried about what our identity will be.¨ While this year's team lost some amazing athletes, they are replaced with talented individuals who give basketball their all.
While last year's team was led by Luke Rudy and Ryan Batte, both of those guys are currently playing college basketball. The 2017-18 men's basketball team's only returning starter, is 2017 2nd team all-conference selection Nick Deifel. Nick has been a staple on the men's team for the last 3 seasons and brings strong leadership to the team. Deifel commented that it is important to always play like a leader. "You never know who is in the stands…. It may inspire a kid in the stands to work hard and want to be an Oak Hills basketball player one day."
In addition to Deifel, the team is expecting contributions from returning guards Jake Woycke and Nick Streder. Skylar Wright and Ben Zahneis will also be counted on, as well as transfer guard Marcus Dockery.
The team has been preparing for this season, practicing several hours a day, lifting weights, and shooting in the early hours prior to school to prepare for this season. According to Coach Price, the older players have worked hard to support each other and show the underclassman how to prepare the right way through the summer and fall. While the coaches and players feel like they have prepared to defend their title, they will have some stiff competition. The Princeton Vikings, led by Syracuse commit Darius Bazley will be one of the toughest tests in conference.
While winning championships is always fun and important, Coach Price is know for using athletics to teach his team's life lessons. ¨Athletics teach vital life skills such as getting through adversity, being on time, be organized, and discipline.¨ He continued that in order to be successful on the court, athletes must learn that family comes first, academics second, athletics third and social life must stay in fourth.
While balancing school and extracurriculars can be difficult, Coach Prices and Deifel agree that this year's team has a chance to be something special. Despite their loses from last years team, they believe the team will win if they keep improving, if they take care of the fundamentals. "This is my last go around in an Oak Hills uniform and I want nothing more than than for us all to have a great season and go out on a winning note, stated Deifel.
The team is currently 2-0 in the league and 3-1 overall. Their only loss coming to #1 in the city, Moeller Crusaders. Come support the Highlanders in their next home game, this Friday, December 15th.