Delhi Middle School Athletics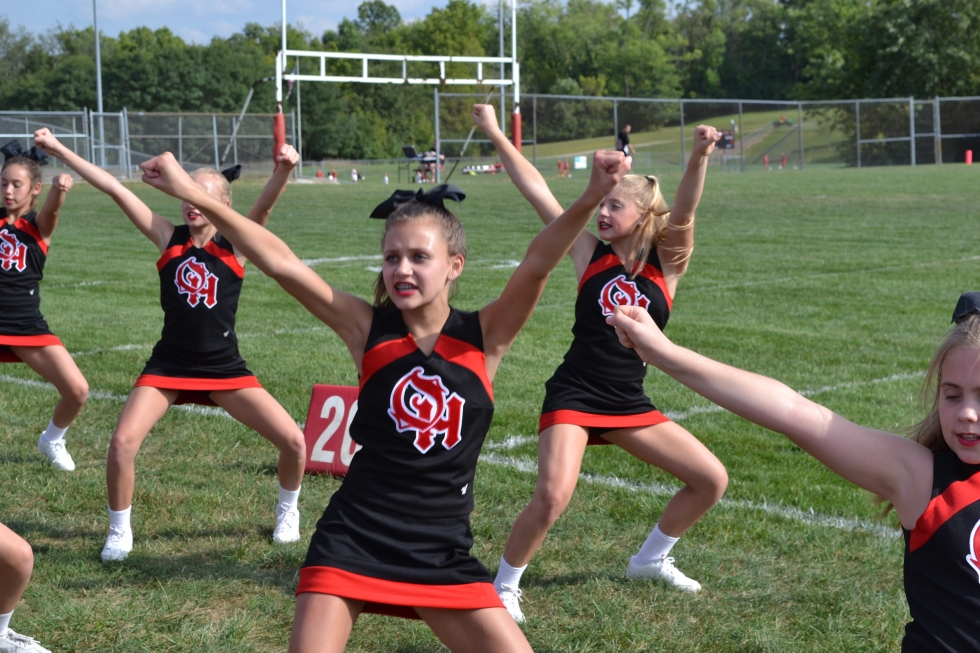 Staff
At Delhi we strive to show our students how to be successful student-athletes. We offer a wide variety of athletic opportunities for students in the 7th and 8th grades. There are three seasons throughout the year. The fall sports season includes cheerleading, volleyball, football, cross-country, boys and girls golf and girls tennis. The winter sports season includes cheerleading, boys and girls basketball, wrestling and swimming and diving. The spring sports season includes boys tennis and track and field. Our 6th-grade students are able to participate in intramurals or in matball league. Delhi is the proud home of 16 GMC Individual Champions and proud to be a part of 18 GMC Team Championships.
FREQUENTLY ASKED QUESTIONS
Who is eligible to participate in middle school athletics?
Students who are academically eligible in grades seven and eight are able to participate in middle school athletics. Sixth grade students are not permitted to participate in middle school athletics according to the Ohio High School Athletic Association (OHSAA).
What grades do students have to earn to remain academically eligible?
OHSAA states that students must pass 5 courses from the previous quarter to be eligible for the next quarter. Coaches might have their own policies for their team. They will provide that information at the beginning of the season through paperwork and a team meeting. All of our middle school coaches will emphasize that participants are students first and then athletes.
Will there be sign-ups for each team?
"Sign-ups" for middle school sports are a little different than youth athletics. Completing final forms https://oakhills.finalforms.com/ is the first step to participate for a middle school team. Check all of the sports your student is interested in participating in throughout the year. If they decide not to participate or if they do not make a team that has cuts they will be removed from that team by the coach or athletic director. There will then be meetings and communication prior to the start of the season from the coach of that sport.
What paperwork needs to be filled out to participate?
The only hard copy that will need to be turned in is the OHSAA Preparticipation Physical Evaluation. Parts of this document will need to be filled out and signed by a physician. Once completed it will need to be turned into the middle school athletic director prior to participating in any middle school activity. This includes preseason workouts of any kind. Physicals are good for 13 months from the date of the examination. The building athletic director will mark this on final forms and keep the document in a file at the school. All other paperwork is filled out electronically in final forms by both parents and student athletes.
Are there fees to participate in a middle school sport?
Oak Hills does have a participation fee for each sport. The participation fee is $135 per sport. This fee must be paid prior to participation in a game/match. Students must also have all instructional fees paid prior to participation in a game/match.
Are there playing time requirements?
Our goal at the middle school is to help student athletes grow and prepare them for high school sports. Coaches will do their best with getting student athletes involved. However, playing time is not guaranteed during a game/match.
Can my student athlete continue to play on their "outside" team?
OHSAA does not allow students to play on another team during the same season. Once the middle school sports season begins, student athletes are not allowed to participate on an outside school team. This included any team function. If you do you will be ineligible for the school team and the team could be forced to forfeit games.
Does my student athlete need to attend all team functions (tryouts, practices, games/matches)?
Yes, student athletes are expected to attend all team functions unless it is an excused absence. Each coach will cover this in their team meetings.